Who is Monte Vista Chapel?
At Monte Vista Chapel, it is our desire for you to understand and experience the deep love of God and allow it to transform you into someone who lives and loves like Jesus. Everything we do flows from this desire.
We see this type of transformation in the life of John, 'the disciple whom Jesus loved.' (John 13:23) For John, being a disciple was a commitment to "live as Jesus did" (1 John 2:6) and a recognition that on his own, living and loving like Jesus was an impossible task. However, by experiencing the love of Jesus throughout his life, John came to understand this profound reality. "We love because he first loved us." (1 John 4:19)
MVC's Mission is Christ in us, Christ through us
At MVC, our desire is to build disciples (apprentices of Jesus) who encounter the love, grace, and truth of God, and as a result, are being transformed into the kind of people who naturally live and love like Jesus would if he were in their situation. Therefore, as disciples of Jesus who desire to build disciples, we make two promises.
• Our promise to the church: to partner with people who desire to know God and become more like Jesus. (Christ in us)
• Our promise to the world: we will do our best to love as we have been loved by God. (Christ through us)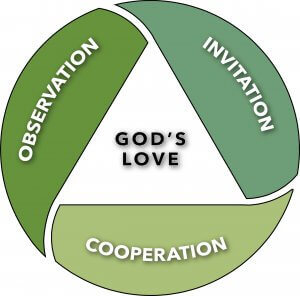 MVC's Discipleship Motion is Spiritual Formation
The way we become people who naturally live and love like Jesus is through Spiritual Formation. We define Spiritual Formation as our continuing response to the reality of God's grace shaping us into the likeness of Jesus Christ, through the work of the Holy Spirit, in the community of faith, for the sake of the world. A practical tool to visualize our ongoing response to God's grace is our Discipleship Conversation.
Observation: Your daily life is the primary environment God will use to form you into the kind of person who naturally does what Jesus does. Our encouragement is to pay attention to your life.
Invitation: God, your loving Father, knows the most helpful steps for you to take to become like Jesus, and in his grace knows when you are ready to take them. Our encouragement is to listen to God's invitation.
Cooperation: God's grace is opposed to earning, not effort. As such, you play an active role in the process of becoming more like Jesus: Our encouragement is to intentionally cooperate with God's invitation in your life.
A Shared Rhythm of Life
If you are asking "How do I belong here at Monte Vista Chapel?", our response is "Come have a seat at the table. It belongs to Christ, and we have a place for you". However, if your question is "How can I take part in the life of Monte Vista Chapel?" then we invite you to join us in our Shared Rhythm. 
Our Shared Rhythm of Life guides and reminds us why we…
Pray:

Prayer, at its core, is being present with God, ourselves and others.  By maintaining our posture of prayer we discern God's heart and access resources essential for Him to work in and through us.  Prayer forms the foundation of our relationship with God and underscores how we live into our mission and vision at Monte Vista Chapel.

Gather:

Because the Trinity forms us as a people designed for relationship, we commit ourselves to generous hospitality by living with one another in tangible expressions of our church community.

Therefore we gather in groups both large and small to learn and teach, to study and celebrate, to lift each other up and be lifted up, and to worship and be renewed by God's glory. This helps our community mature into the multifaceted reflection of Christ that God intends us to be.

Give:

As God is the giver of all good things, we are invited to respond, reflecting the same spirit of generosity.  When we intentionally give of our financial resources, time and abilities, our hearts and God's kingdom expand.    

Partner:

While Monte Vista Chapel represents a small part of the body of Christ, the Holy Spirit becomes known among us when we come together in unity with others. Partnering builds relationships and reflects Jesus at every level, bringing together people, friends, families, neighborhoods, and communities all over the world.  Our missional call to serve and lift others up both near and far with grace, humility, commitment and love, brings opportunity to share and expand the Kingdom of God here on earth.
MVC's Discipleship Markers
We know we are heading in a healthy direction when we see these markers in ourselves and in our church community.
A growing love and trust in God above all.
A growing desire and ability to follow the model and teaching of Jesus in all relationships.
A growing capacity to gracefully obey the Holy Spirit
A growing partnership in the kingdom of God
For a more in-depth look at MVC's Trail Markers, take a look at this clip of Ken's sermon from 2017.
MVC's Method
Participate in the next Discovery gathering. (two-hour seminar)
After Discovery, join the next available Pathways workshop (7 weeks, 1.5 hours a week) where we will partner with you to develop an intentional plan (Rule of Life) for your Spiritual Formation