At Monte Vista Chapel, it is our desire for you to understand and experience the deep love of God and allow it to transform you into someone who lives and loves like Jesus. Everything we do flows from this desire.
We see this type of transformation in the life of John, 'the disciple whom Jesus loved.' (John 13:23) For John, being a disciple was a commitment to "live as Jesus did" (1 John 2:6) and a recognition that on his own, living and loving like Jesus was an impossible task. However, by experiencing the love of Jesus throughout his life, John came to understand this profound reality. "We love because he first loved us." (1 John 4:19)
MVC's Mission is Christ in us, Christ through us
At MVC, our desire is to build disciples (apprentices of Jesus) who encounter the love, grace, and truth of God, and as a result, are being transformed into the kind of people who naturally live and love like Jesus would if he were in their situation. Therefore, as disciples of Jesus who desire to build disciples, we make two promises.
• Our promise to the church: to partner with people who desire to know God and become more like Jesus. (Christ in us)
• Our promise to the world: we will do our best to love as we have been loved by God. (Christ through us)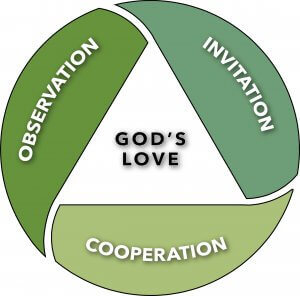 MVC's Discipleship Motion is Spiritual Formation
The way we become people who naturally live and love like Jesus is through Spiritual Formation. We define Spiritual Formation as our continuing response to the reality of God's grace shaping us into the likeness of Jesus Christ, through the work of the Holy Spirit, in the community of faith, for the sake of the world. A practical tool to visualize our ongoing response to God's grace is our Discipleship Conversation.
Observation: Your daily life is the primary environment God will use to form you into the kind of person who naturally does what Jesus does. Our encouragement is to pay attention to your life.
Invitation: God, your loving Father, knows the most helpful steps for you to take to become like Jesus, and in his grace knows when you are ready to take them. Our encouragement is to listen to God's invitation.
Cooperation: God's grace is opposed to earning, not effort. As such, you play an active role in the process of becoming more like Jesus: Our encouragement is to intentionally cooperate with God's invitation in your life.
MVC's Discipleship Markers
We know we are heading in a healthy direction when we see these markers in ourselves and in our church community.
A growing love and trust in God above all.
A growing desire and ability to follow the model and teaching of Jesus in all relationships.
A growing capacity to gracefully obey the Holy Spirit
A growing partnership in the kingdom of God
For a more in-depth look at MVC's Trail Markers, take a look at this clip of Ken's sermon from 2017.