A Devotional for Holy Week
Or to reflect on Jesus' gift any week. Available through May 28 (Pentecost)
Holy week is the six days leading up to Easter each year. In many Christian traditions it is common to observe significant moments in Jesus' story as the week unfolded and ultimately led Him to death upon the cross. This year, members of our MVC Community have prepared daily opportunities to spend some devotional time with Jesus during Holy Week remembering the story with hope that you might notice something new and contemplate how deeply Jesus' sacrifice relates to your story.
You will find a new entry each day right here. As we look towards Easter Morning with the hope of true love's victory over death, prepare your heart to what Jesus may be inviting you to notice this year. Please refresh your browser window then simply scroll down or click on the day named here.
| PALM SUNDAY | MONDAY | TUESDAY | WEDNESDAY | THURSDAY | GOOD FRIDAY | HOLY SATURDAY |
Palm Sunday
"A New Kind of King"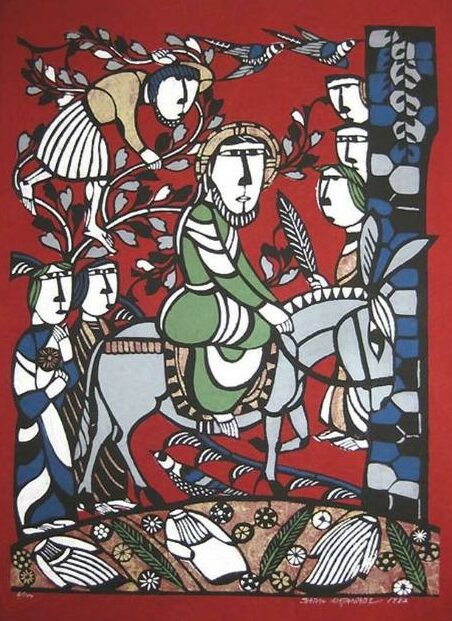 Sadao Watanabe – Entry into Jerusalem
John 12:12-19
The next day, the large crowd that had come for the feast heard that Jesus was on his way to Jerusalem. So they took branches from palm trees and went out to meet him. They shouted,
"Hosanna! "
"Blessed is the one who comes in the name of the Lord!" 
"Blessed is the king of Israel!"
Jesus found a young donkey and sat on it. This is just as it is written in Scripture. It says,
"City of Zion, do not be afraid.
    See, your king is coming.
    He is sitting on a donkey's colt."
At first, Jesus' disciples did not understand all this. They realized it only after he had received glory. Then they realized that these things had been written about him.
A crowd had been with Jesus when he called Lazarus from the tomb and raised him from the dead. So they continued to tell everyone about what had happened. Many people went out to meet him. They had heard that he had done this sign. So the Pharisees said to one another, "This isn't getting us anywhere. Look how the whole world is following him!"
Devotional
Today marks the beginning of Holy Week. Across the globe, Christ followers are gathering to celebrate and remember the moment in our history when Jesus the Messiah, the Savior of the world, entered the city of Jerusalem. The excitement that filled the air prompted crowds to lay down their cloaks and palm branches in admiration, eager to see this teacher whom they had heard so much about. 
Jesus came to bring both a message of peace and of humility to restore the broken relationship between humanity and God. Here he was. Jesus, the King. But he was neither like other kings anyone had experienced, nor what they expected. His message was love. 
As he made his way through the crowds of people, they poured over him with shouts of praise that could not be contained, "Hosanna! Save us!" Throughout this week, we will again and afresh see Jesus' message of love unfold.
God's love for us is gracious and unconditional. I am showered with grace of all types and new mercy daily, but sometimes I take it for granted. Why, maybe because this type of love is continual and given without any conditions. Love was nailed upon the cross for all of us, for you and for me, to win the battle, shining light into the darkest corners of our human brokenness. I catch myself running to God with the long list of what I think I need, full of demands and requests. But often the simple devotion of praise and honor that God deserves doesn't make it on the list. This season of Lent has reminded me how much Jesus, the King of Kings, the lover of my soul, deserves every ounce of my praise. 
 Reflection: 
What is causing me to withhold my praise from God?

How can I magnify God's image within me?
Prayer:
O Jesus, who rode in on a donkey, I lift my life in praise to You now. Enter into my heart and home, my family and everyday life. 
Will You prepare me, O Lord and remind me how a life in You is a life that holds rhythms of jubilant celebration and also sorrow and suffering?
O Lord, there is none but You. I worship You today, tomorrow and forevermore.  –Amen
*An adaptation of "A Prayer for Palm Sunday" To Light Their Way by Kayla Craig
Contributed by: Ashley Mutchler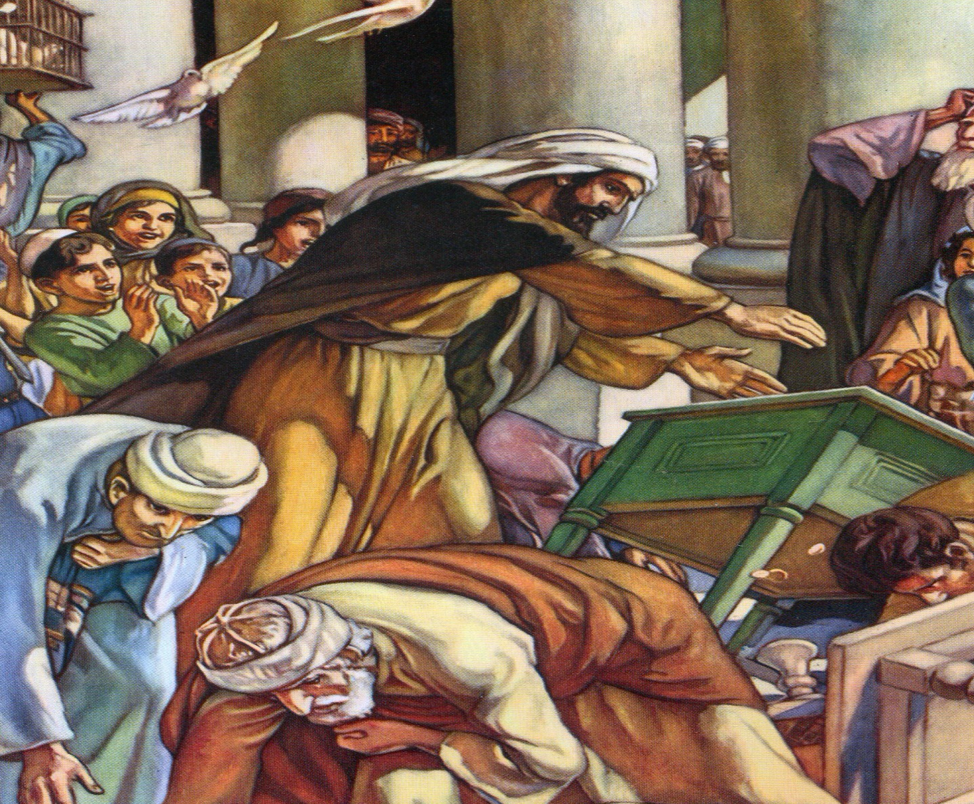 Mark 11:15-18
The day after Jesus heard, "Hosanna to the One who comes in God's name", He entered the temple grounds and began forcefully driving out people who were [selling and buying, and overturned the tables of the moneychangers who made a profit and the seats of those who were selling doves.  He began to teach and say to them, "Is it not written, 'My house shall be called a house of prayer for all the nations'? But you have made it a robbers' den."  The chief priests and the scribes heard this and began searching for a way to destroy Him; for they were afraid of Him, since the entire crowd was struck with astonishment at His teaching. 
Devotional
Jesus' stand for justice was not limited, partial or inconsistent. This scene points back to Jeremiah 7:11 and Isaiah 56:7. Jesus and the prophets rebuke those who oppressed the needy and the poor peasants. This helps us understand the catalyst for Christ's anger that led to the overturning of tables. 
While in Jerusalem, Jesus rebukes the religious leaders for their hypocrisy, pride, hunger for recognition, misguided evangelistic zeal superficial religiosity, greed, self-indulgence and neglect of justice. His rebuke reiterated that they were neglecting the more important matters of the law-justice, mercy and faithfulness…You clean the outside of the cup, but inside they are full of greed and self-indulgence. 
There are differences between anger that seeks to dominate and anger that seeks to liberate. Jesus' rage was a demonstration of His longing for justice and dignity for the most vulnerable and those being exploited. He did not seek a compromise as He disrupts the status quo. 
Jesus took an enormous risk by pointing out the ways the powerful lead away from God. His conditions for blessing are the condition of justice for all those too weak to have it on their own. 
Reflect:
Look back at the image, where are you in the scene? What is your response to Jesus' actions?

What do you think might be the focus of Jesus' zeal today as He advocates for the least among us? What is your response to Him? Where does the church make it more difficult for "the least of these" to enter?
Pray:
Save us, Lord, from a religion that ignores the cries of the exploited and oppressed. Lead us into a deeper trust that challenges injustice and makes the sacrifices that must be made to build Your kingdom on earth as it is in heaven. Amen.
Contributed by Linda Simmons-Harder
TUESDAY
"An Intentional Invitation"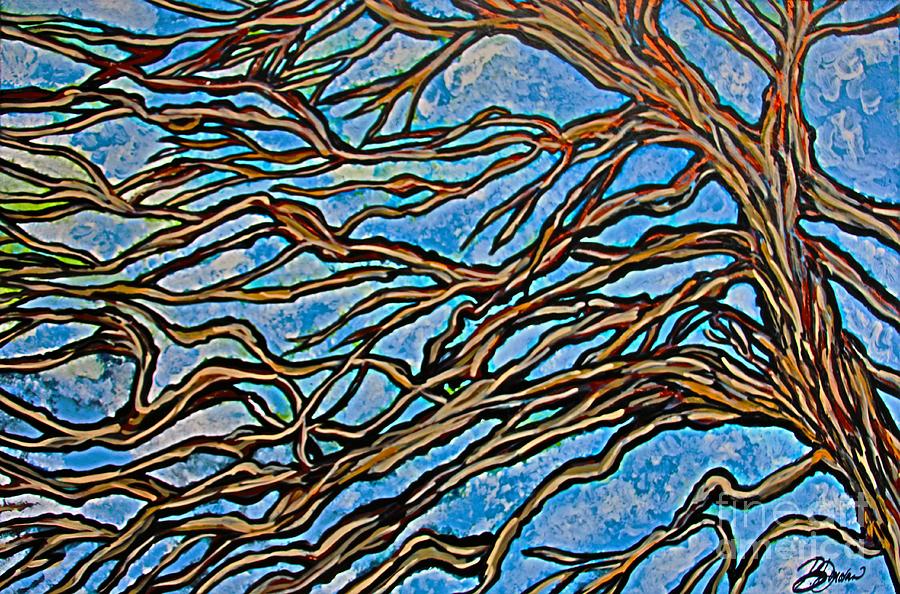 Barbara Donovan – The Barren Fig Tree
Mark 11:20-25
In the morning, as they went along, they saw the fig tree withered from the roots. Peter remembered and said to Jesus, "Rabbi, look! The fig tree you cursed has withered!"
"Have faith in God," Jesus answered. "Truly I tell you, if anyone says to this mountain, 'Go, throw yourself into the sea,' and does not doubt in their heart but believes that what they say will happen, it will be done for them. Therefore I tell you, whatever you ask for in prayer, believe that you have received it, and it will be yours. And when you stand praying, if you hold anything against anyone, forgive them, so that your Father in heaven may forgive you your sins."  (NIV)
__
In the morning, walking along the road, they saw the fig tree, shriveled to a dry stick. Peter, remembering what had happened the previous day, said to him, "Rabbi, look—the fig tree you cursed is shriveled up!"
Jesus was matter-of-fact: "Embrace this God-life. Really embrace it, and nothing will be too much for you. This mountain, for instance: Just say, 'Go jump in the lake'—no shuffling or hemming and hawing—and it's as good as done. That's why I urge you to pray for absolutely everything, ranging from small to large. Include everything as you embrace this God-life, and you'll get God's everything. And when you assume the posture of prayer, remember that it's not all asking. If you have anything against someone, forgive—only then will your heavenly Father be inclined to also wipe your slate clean of sins."  (MSG)
Devotional
After reading scripture in my NIV Bible, I often like to look them up The Message. Notice how The Message phrases the beginning of Jesus' reply in verse 22: "Jesus was matter-of-fact: 'Embrace this God-life. Really embrace it, and nothing will be too much for you…'" Jesus was teaching – through the fig tree and also the previous day's clearing of the courts – about living for God authentically. Purposefully. Intentionally.
I am struck by how intentional I am in many aspects of my life. I was intentional about the educational path and choices I made to attain the degree I wanted for the career I wanted. I am intentional about some of the parenting choices I make to hopefully impact our children in a positive way. I am (sometimes) intentional about food and exercise choices to achieve health goals… but what about my faith? Am I "embracing this God-life" with the same intentionality I put toward career, family, health? The only way to fully embrace what God offers, requires tending to our faith with the same – or more – intentionality. For me, this points to  seeking experiences to learn, to pray, to be challenged, to serve, to fellowship, and to rest in Him. Intentionality means I go beyond saying or thinking and form my intentions towards God into my reality with God. What about you? What are you most intentional about? Does your "real-life" intentionality contrast with your "God-life" intention in seeking God and growing in faith?
Reflect:
How are you being intentional about growing in your faith and your relationship with Jesus?

In what ways might you hear God's nudging to be intentional about "embracing this God-life?" Might it be areas of knowledge, prayer, service, rest, or something else?

Can you identify one specific step or opportunity today to become more intentional in that area?
Father God, I am so grateful for your Son, Jesus and the Word provided to guide my journey. Lord, I pray today that you tune my heart to Your presence. Open my eyes to see and my ears to hear where you are inviting me closer to You. Lift me into a posture of intentionality about my faith so that I might fully embrace the "God-life", and Lord, to see and understand it as Your sweet invitation. I pray that you continue to remind me of Your open invitation to live today in this God-life and the joy that accompanies it. In the precious name of Jesus  -Amen.
Contributed by Danielle Turley
Wednesday
"Jesus Is Anointed With OIl"
John 12:1-8
Six days before the Passover, Jesus came to Bethany, where Lazarus lived, whom Jesus had raised from the dead. Here a Dinner was given in Jesus' honor. Martha served, while Lazarus was among those reclining at the table with him. Then Mary took about a pint of pure nard, an expensive perfume; she poured it on Jesus' feet and wiped his feet with her hair. And the house was filled with the fragrance of the perfume.
But one of his disciples, Judas Iscariot, who was later to betray him, objected, "Why wasn't this perfume sold and the money given to the poor? It was worth a year's wages."  He did not say this because he cared about the poor but because he was a thief; as keeper of the money bag, he used to help himself to what was put into it.
"Leave her alone," Jesus replied. "It was intended that she should save this perfume for the day of my burial. You will always have the poor among you, but you will not always have me.
Devotional
Reading through scripture and considering demonstrations of discipleship, the 12 disciples often to come to mind. After all, they are the men whom Jesus chose to follow him and are collectively known for being the disciples. Here however, John points us to a disciple who chose Jesus. Mary, a woman with a rather unrefined reputation, continued to break cultural norms and found herself at the feet of Jesus. While the disciples were summoned by Jesus, Mary surrenders to him in a very bold and public way, generously annointing his feet with perfume.
The gospel of John revolves around the notion that Jesus is the Messiah. He is the Promised One, the One all had been waiting for. Mary, having witnessed the miracle of Jesus raising her own brother from the dead, knew that Jesus was King. We don't know Mary's internal thoughts when she anoints Jesus but here is what we do know; Anointing one with oil or perfumes was reserved for few occasions in Jesus' time. For kings and priests, anointing meant consecration for a specific purpose. Additionally, the deceased were often prepared with oil for burial. It's likely that Mary was making a declaration of Jesus' royalty as King when she anointed him at this dinner gathering. Jesus also alludes that his time is coming, and that he will not always be with them. Hence, there is an element of preparation for burial that Mary may have been attuned to honor. 
Engaging in this season of lent, a new territory of bravery has been inviting. While some look to bravery as rising up and overcoming, what I am finding is that bravery in its most pure form is simply choosing. Choosing to release oneself from the burden of sustaining the status quo and instead take up our cross and follow Jesus. Bravery is full of risk because choosing Jesus and publicly honoring him is vulnerable. Mary exercised such radical bravery when she boldly anointed Jesus in a room full of men. She broke the status quo and modeled discipleship on a deeper level than even those disciples whom Jesus himself had been chosen. Her bravery in stepping into this vulnerable situation also brought an opportunity for Jesus to affirm her. Given her rapport within the community, this affirmation must have seemed quite scandolous, yet Jesus' affirmation of Mary, is an affirmation to all who have been marginalized, set aside or placed in the "others" and "lesser than" category. 
Shortly after Mary annoints Jesus, He goes on to wash the disciples feet. In doing so He replicates Mary's gesture of servanthood to the others.Jesus'  bravery would go on to disrupt the ideals around what true royalty is as he fully embraces his anointing as the Humble King. 
Reflection: 
Considering Mary's model of bravery as the disciple to chose Jesus, how might God be inviting you to bravely choose Jesus in this Easter Season?
What's the status quo you're up against and can you trust Jesus to affirm you as you challenge it?
Prayer: 
Almighty God, it is you who provides the strength and courage to stand up when I feel weak. May your strength be made perfect in my weakness, my fear, and my doubt. Open my eyes to see how Jesus modeled strength of a different kind, the strength that always chooses You, and the bravery of honor and compassion  -Amen
Contributed by Kelsey Henderson
Maundy Thursday
"The Last Supper"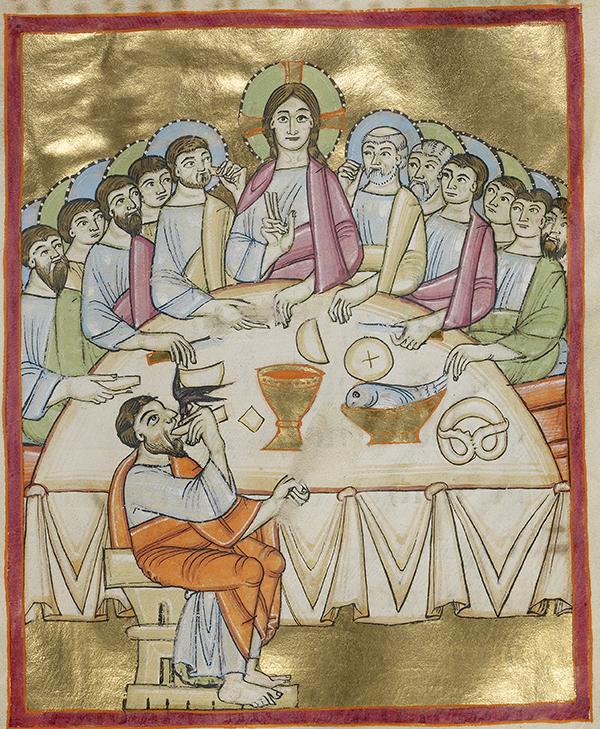 The Last Supper, Circa 1030–40, Unknown
Mark 14:22-26
While they were eating, Jesus took bread, and when he had given thanks, he broke it and gave it to his disciples, saying, "Take it; this is my body."  Then he took a cup, and when he had given thanks, he gave it to them, and they all drank from it.  "This is my blood of the covenant, which is poured out for many," he said to them. "Truly I tell you, I will not drink again from the fruit of the vine until that day when I drink it new in the kingdom of God." When they had sung a hymn, they went out to the Mount of Olives.
Devotional
Imagine sitting at this table with Jesus. He has just told everyone that one of you would betray him. Then, he gives thanks,  and breaking the bread he serves everyone who is gathered at the table. He does the same with the cup. Jesus knew who would be the one to betray him and still, served everyone. Judas was not excuded by Jesus. Instead, Judas ultimately chose to exclude himself. Jesus continued to give himself away to the one who would betray him and when he dipped the bread and offered it to Judas,it was then he revealed his betrayal. Jesus is the one who feeds his enemies and still goes on treating them as friends, loving them to the end. Jesus' faithfulness did not depend on the faithfulness of anyone else.  
Reflect:
This Lenten season, as you follow Jesus' path to the cross and resurrection, are there moments where he is asking you to follow him, not just in what you believe, but in how His life is put on display in you? Who are the people in my life whom Jesus is asking me to love as he loved?
Prayer:
Oh God, thank you for filling your word with truths illustrating how to follow your lead and love as you loved. I pray that you would continue to work in me and through me, as I listen for your voice of truth. May it be my guide to understand more and more how to love as you loved. In Jesus' name  -Amen
Contributed by Nancy Rapp
Good Friday
 "The hope within His anguish"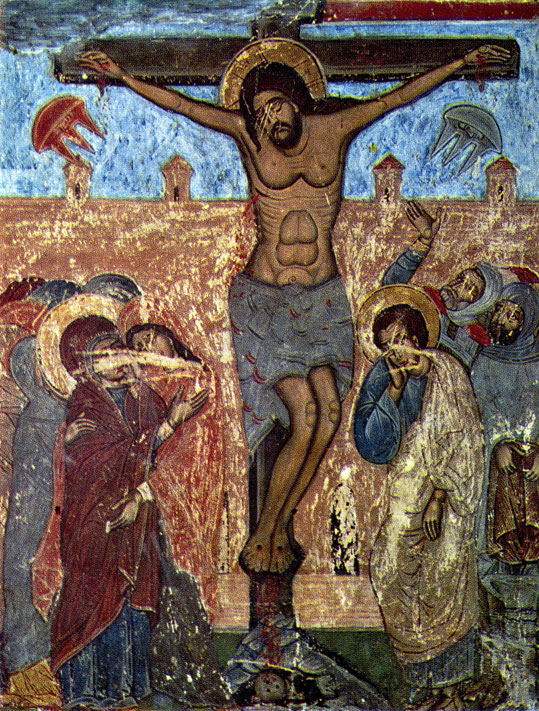 Svetitskhoveli fresco. The Crucifixion
Luke 23:46 and Psalm 31:5
"Into your hands I commit my spirit."  (NIV)
"I entrust my spirit into your hand." (NLT)
"I've put my life in your hands." (MSG)
Devotional
At the start of his ministry, Jesus entered the desert where he spent days and days praying. He was tempted by Satan, and relied on Scripture, speaking its life giving words aloud, to keep his mind and heart unwavering. At the end of his ministry, he entered a garden, where he spent hours and hours praying in the space between the anguish of desiring the victory at the end and accepting the cost to himself in order to get there. Once again, through meditation on Scripture (which we can indirectly perceive through his words at the Garden of Gethsemane), he moved towards the cross freely with an uncluttered heart. 
There are four well-known quotes of Jesus during the crucifixion:  
My God, my God, why have you forsaken me? f

rom Matthew 45:46 and Mark 15:34, NIV

Father, forgive them, for they do not know what they are doing.

from Luke 23:34, NIV

Father, into your hands I commit my spirit.

from Luke 23:46, NIV

It is finished.

from John 19:30, NIV
Contrary to what one might think, those utterances do not stand alone as singular statements. In fact, the first is a direct citation from Psalm 22 (the fourth indirectly), and the third from Psalm 31. Both Psalms speak to the physical and emotional experience of Jesus on the cross (if you have not read them, do so! It is eye-opening). Rather than picturing Jesus being in complete self-control, throwing out a sentence as if he was going through a linear experience, in actuality, he is recalling to mind the Psalms for his benefit as well as ours.  For the position of anguish is never linear, but full of multilayered competing emotions and physical responses.
Knowing this, imagine that Jesus is not just saying a sentence or two on the cross. He is using what little breath he had to speak a reference, to communicate his heart towards us, his faithfulness, and his hope in the center of his anguish. 
He is not just pointing us to the fulfillment of Scripture prophecy. It is as if Jesus is using audible breath prayer to simultaneously comfort himself by getting through one more second at a time, just as the ultra-marathon runner fixes on nothing else but the next stride, as well as steering those witnessing his death and all believers in the future (us) in the way one should respond during seasons of life that are toiling in distress. 
These are not his words originally – no – David spoke them first. In that, David's experience is wrapped up into Jesus' experience, which gives us the right and leverage to then enter Jesus' experience in the midst of our own because He, Jesus, was entering into our experience(s), past, present and future as he hung on the cross.
Why would Jesus draw us there? So that we would be comforted, too? Absolutely.  But as with Jesus, there is always more.  Verses 9-13 speaks to the anguish of the soul, the ridicule of enemies, and feeling forgotten. Then Verse 14 beings with "But," and the rest of the Psalm pivots towards the Lord despite everything because the Psalmist chooses to hope in the Lord by entrusting his very life to the Lord. "Into your hands, I commit my spirit" is not a final surrender because Jesus was at the end of his life; it is the act of trusting one's whole being to the Father. 
So, what is the hope within Jesus' anguish? Consider the final two verses of Psalm 31:  "Love the Lord, all his faithful people! The Lord preserves those who are true to him… Be strong and take heart, all you who hope in the Lord." Jesus' final moments of his ministry and his life was to encourage everyone to entrust our lives to the Father, as he was doing with his.
Prayer for reflection:
Jesus, I am amazed by your words. Thank you that you acknowledge and honor our anguish, our suffering, our grief, our anxiety. I don't often navigate it well. When it's mine, I carry it on my own. When I'm witnessing another's pain and I cannot comfort them or fix it for them, I carry it on my own. Because I often forget about the "but", and that there is a foundational hope when it feels like this season will not give in. Be my refuge. Enter my experience, as I reflect on yours. Help me to believe when I am in doubt about your love, and when my spirit is not strong, so that I may keep moving forward freely and with an uncluttered heart to hope.  Into your hands, I commit my spirit. -Amen.
Contributed by Callie Watterson
Holy Saturday
"The Darkest Hours"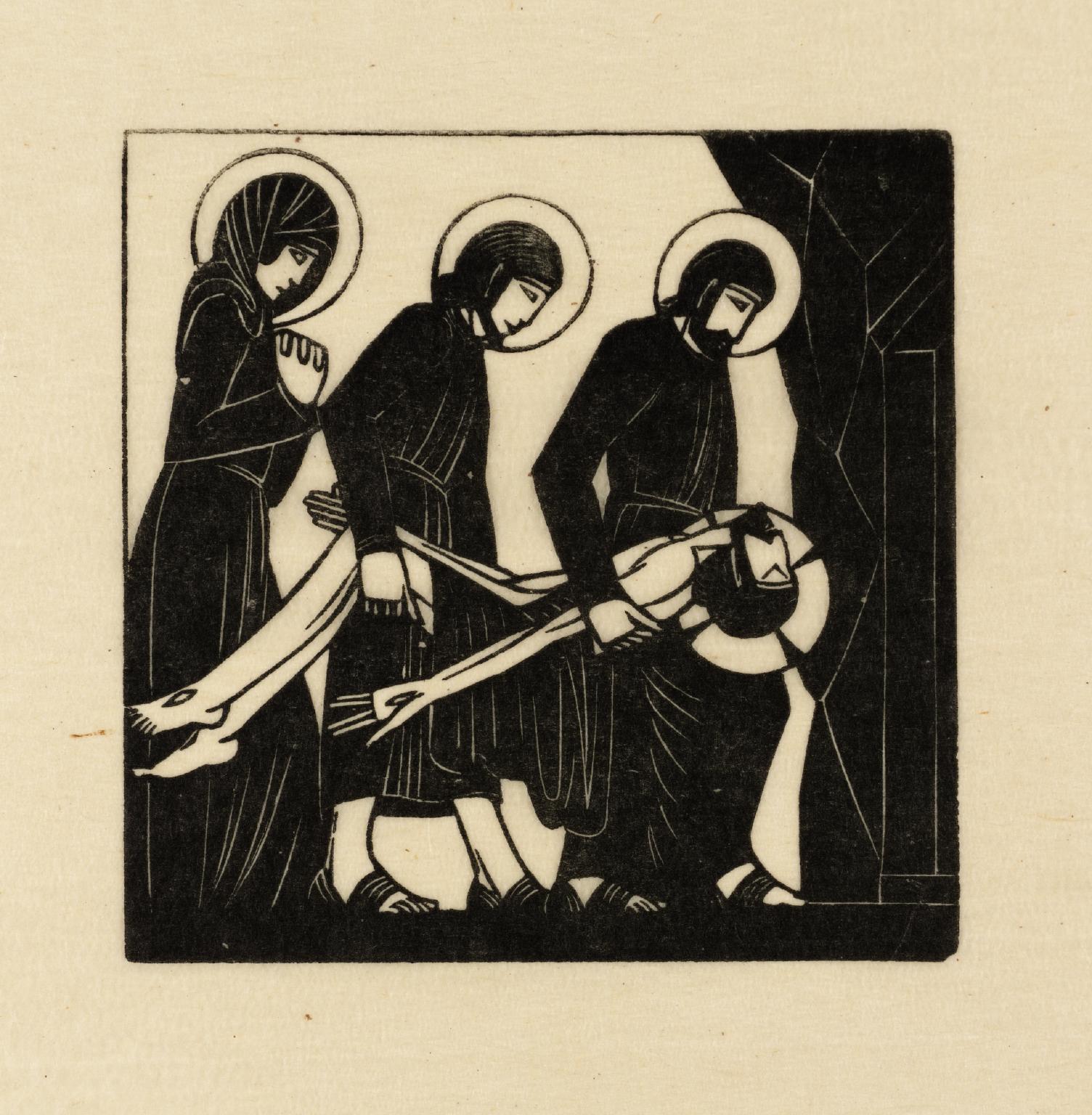 The Body Of Jesus Is Laid in The Tomb – 1917, Eric Gill
Romans 6:5
"For if we have been united with him in a death like his, we shall certainly be united with him in a resurrection like his."
Devotional
I've had a lot on my mind lately – Things I am learning as I move through the loss of a loved one, make vocational changes, and the flux of my family growing up and my role shifting in their life.  All feel like a "Saturday" of sorts.  The sun is setting while Friday goes to sleep, Sunday is not yet here and I find myself, as one would, lingering between what was and what will be in "death" and life.  I'm waiting, sometimes weary, sometimes sleepy, sometimes at rest.  Uncertain of what is to come, my soul goes quiet like the hushed obedience of mountains covered in a fresh-fallen snow.
We remember Christ crucified on Good Friday and Christ Risen on Sunday – Friday and Sunday are the poignant bookends to our faith, but what about the in-between, Holy Saturday?  Not much is said about the day when God went silent, Christ descended and a resurrection had yet to come. I imagine on that Saturday the aftermath of recent loss lingering in broken sunlight, echoing, "All is not right…".  What does one do with this symbolic bridge-day that moves us from death to life? 
Well so far today, I've met with a client, sat with my mom as we thought about facing the first holiday without my dad, which doesn't feel quite right.  I took my daughter to find Easter shoes, helped my son and his friend head back up to college for their final quarter, and will pick up food for the Easter gathering after church. I've felt the strain of a hard conversation with a friend, the laundry is not done, and my kitchen counter is visible for the first time this week. This is what my in-between day held…mini-in-between moments, unfinished business, conflict, less than ideal snapshots of real life, and the reminder that something is not quite right. 
We journey to Sunday by way of the cross. Dallas Willard said, "We were meant to be inhabited by God and live by a power beyond ourselves. Human problems cannot be solved by human means." In surrender, waiting becomes active. As the stormy places we dare not share with another human heart reveal themselves, God descends to the hellish shadows longing for deliverance and finds his home.
Oh, how I have been tempted to escape! Haven't you in these seasons?  But we must stay in this holy day, every hour of it, before Sunday dawns.  There are no short-cuts, just ordinary-remarkable happenings with a God who goes with us. Sunday IS  coming. But it is in Saturday that God comes near, holding us as we work, wander and writhe; Weeping with us, and loving us, as only the One acquainted with sorrows can. When the grit of my struggle finds the embrace of God's love, I wouldn't wish this day away for a moment.   Other times, my soul cries out in begging screams – pleading to be taken off this bridge, this highway, that's commanding my surrender.   Yet, as I remain, God does the impossible. And ever so slowly, a glorious sliver of light peeks over the horizon of Sunday's dawn. It'ts warm glow heals and awakens my stone-shut soul. The same God who called forth Christ from the tomb, calls forth new life in me, and in you. In all of us.
Reflection:
What are your Saturday moments?  
Could it be that God is journeying with you into Sunday's dawn?

What is the grace God would give you to remain with Him along the way?
Prayer:
God you are good, and even in the darkest places of my soul you can become the light of dawn. Just as you break the darkness on Easter morning with the rays of sun, cover me in your warm embrace. Until that dawn comes, abide with me in the waiting and longing as I choose to abide in You. Shepherd my wandering heart into the resurrection life that you have offered, I am open and ready. Not my will but yours be done. – Amen
Contributed by: Michelle Van Vliet
WORSHIP with others at MVC ON SUNDAY Morning!
We are excited to make much of Jesus and YOU ARE INVITED to worship with us EVERY Sunday at 10:am.
It is exciting to celebrate together in worship, remembering Jesus through music, the Word, fellowship and sharing His story in us and through us! Connect with some new folks or some whom you havent seen in a while at the coffee cart!  It is always better to be together but if that is impossible, you can also stream our service live by clicking the button below for our Sunday Livestream at 10 a. m.
The Stations at MVC
The Stations at MVC are available for anyone at anytime through May 12, 2023. If you have not yet had an opportunity to walk through the Stations of The Cross in our courtyard, we encourage you to make some time and invite a friend to join you in a journey of Jesus' final hours on earth. Walk alongside the servant king Jesus as he makes the ultimate sacrifice for our eternal salvation. Listen to the scriptures and pray with Jesus at every step. Scan the QR code beside station 1 with your mobile device to begin or click this button when you arrive.