MVC Kids Summer 2023
Summer is here and if you are entering 1st – 6th grade this fall* we are really looking forward to getting to know you and having some fun together. We have some great activities planned for every age group and hope that you will be able to join us.  Scroll down for all of the information.
E-mail Ashley
* MVC grade promotion takes place on June 1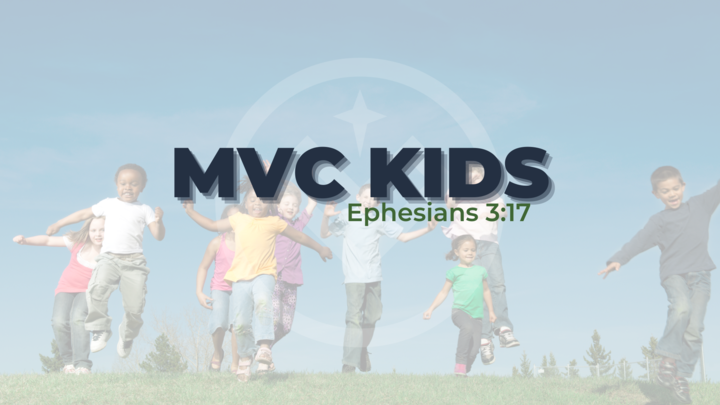 MVC KIDS SUMMER SUNDAYS
SUNDAYS IN JUNE
On June 4, 11, 18, and 25, all incoming 1st-6th graders will check in in either the Children's Ministry Building (CMB) lobby or the Worship Center foyer. Kids will attend the Sunday morning worship service at 10 a.m. with their families and be dismissed to the CMB after worship. Parents will need to come and check out their 1st-4th graders but 5th and 6th graders will be released to find their parent or caregiver in the courtyard.  
From July 2-August 13, 1st-6th graders will remain in the worship service (activity bags will be available).  We will return to our regular Sunday schedule on August 20, with grades 5-8 meeting together in the Tower Bldg after being dismissed.
SUMMER KICK-OFF PARTY
WEDNESDAY, JUNE 14  •  6:00-8:00  •  MVC
All incoming 1st-6th graders, we want to get to know your student and celebrate the beginning of summer by throwing an epic bash! Join us Wednesday, June 14, from 6-8 PM in the CMB for fun, games, and ice cream sundaes!
This is a free drop-off event so adults don't need to stay.
Click Here to register.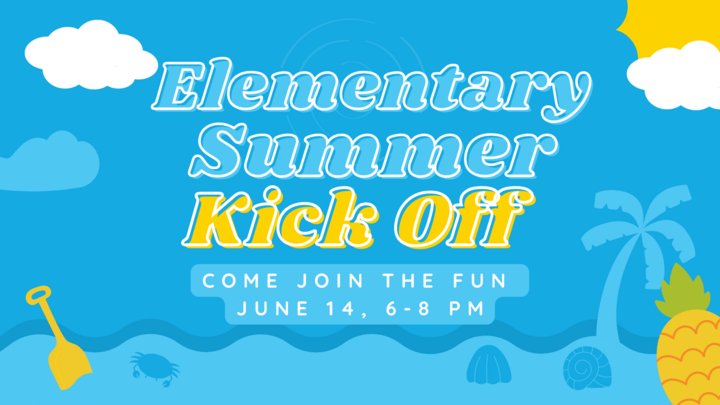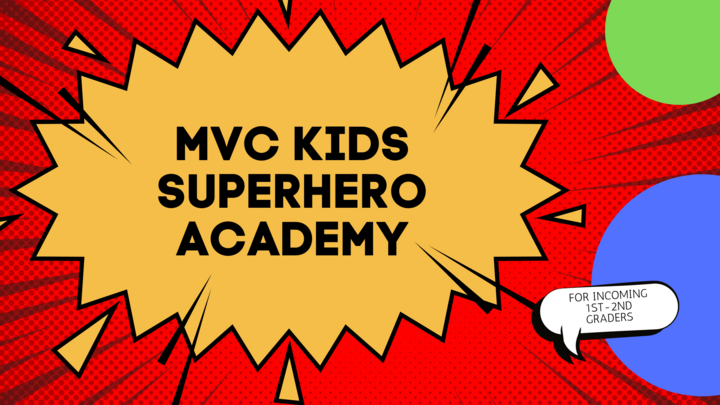 SUPERHERO ACADEMY
JUNE 16-17 • 6 PM – 9 AM • MVC
COST: $15
Calling all incoming 1st & 2nd graders.
Join us for an overnighter at MVC. We'll have an amazing time of worship, activities, and learning about our true identity in Jesus!
Click Here for more information or to register.
SUMMER NIGHTS POOL PARTY
JUNE 28, JULY 12, JULY 26  •  6:00-8:00
All incoming 1st -6th graders are invited to join us for a pool party to have fun together, hang out, and eat some snacks. Each pool party will be held at a different home, so you will need to be dropped off and picked up there. To make things easy, please have your swimsuit on when you arrive if you plan to swim.
Adults are welcome to stay or just drop kids off. For safety, a certified lifeguard will be on duty.
Locations will be posted here the week of the event.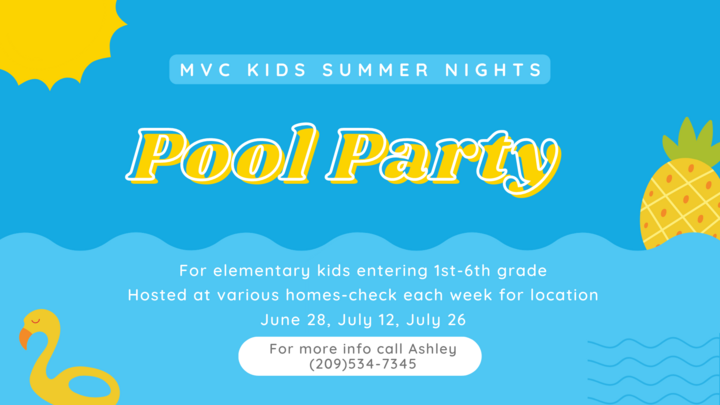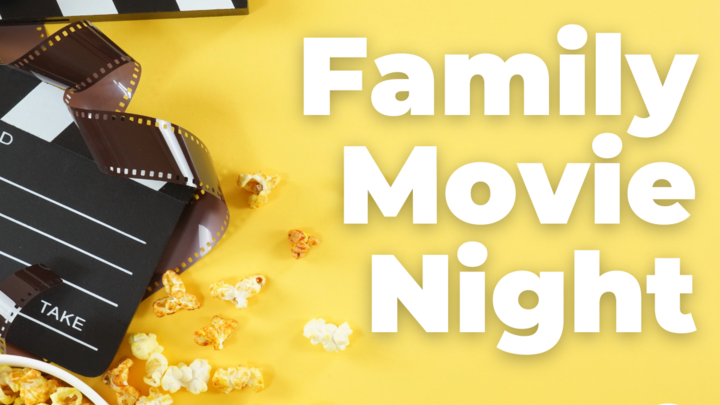 MVC MOVIE NIGHT
FRIDAY, JULY 7  •  7:00-8:30  •  MVC
For all MVC families and friends, not just Jr. High.
Grab a blanket and lawn chairs, pack snacks, and join us for a free family movie night in the South Education Building at MVC (at the Monte Vista Ave. entrance). This is not a drop-off event; all children must be accompanied by an adult.
Movie: TBA
VBS: READY, SET, MOVE!
JULY 17 – 21 • 9 AM – NOON
Cost:  $40 ($35 until June 12)
Join us as we go on an EPIC journey full of fun games, amazing worship, and incredible truths from the Bible! Get ready as we learn what it means to follow Jesus. 
Ages 4 years old through 6th grade
Click here to register or get more information.
Volunteers are needed. If interested, please email Ashley.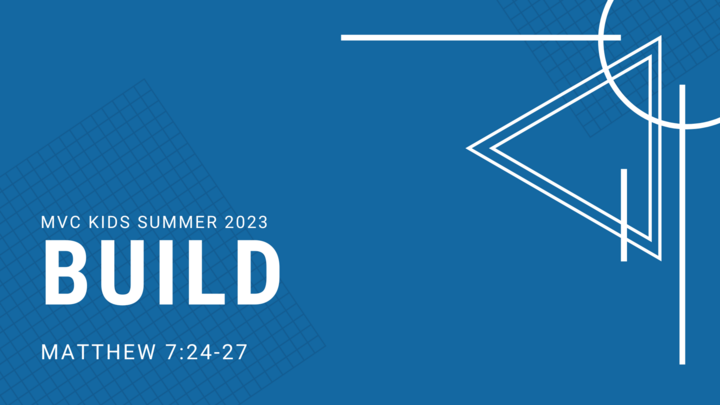 BUILD
JULY 28-29  (GRADES 3-4)
AUG 4-5 (GRADES 5-6)
COST: $25
An exciting overnight adventure that includes food, crafts, and bowling at TenPin. We will explore what it means to be wise and build our house on the rock.
Click here to register grades 3-4
Click here to register grades 5-6
MVC AT THE LAKE
SATURDAY, JULY 29  •  LAKE MCSWAIN
For all MVC families and friends, not just Jr. High.
Join us as we take a break from the heat and head to the lake!
Lake McSwain is home to north America's largest floating inflatable water park, Splash-n-Dash, and it is AWESOME! This is not a programmed event, we're just picking a day for a bunch of us to go to the lake. You can play on the water park, fish, kayak (bring your own or rent), swim, or just enjoy a nap under the trees. Click here to get more information about the lake and what's available.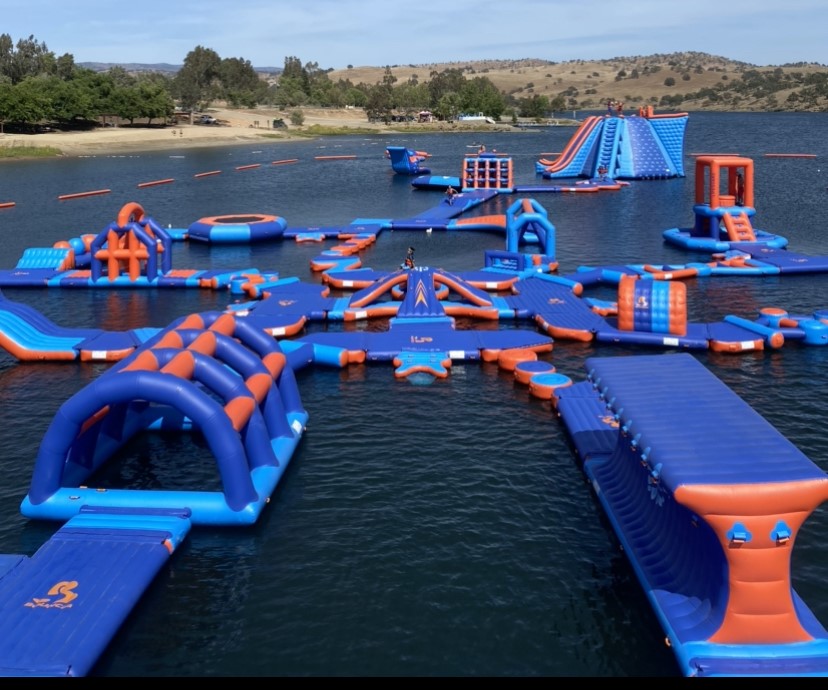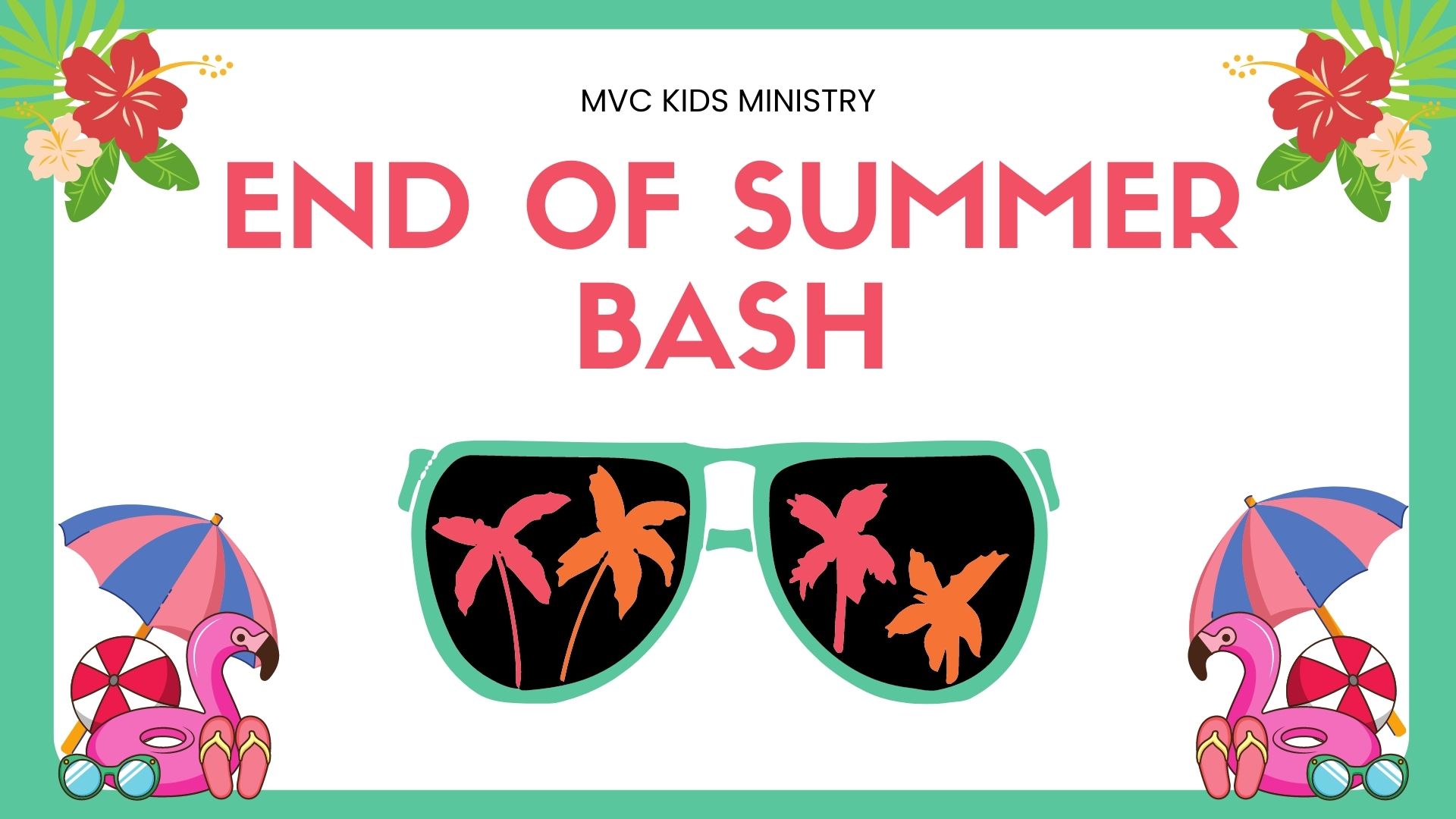 END OF SUMMER BASH!
AUGUST 9 • 6:00-8:00 PM 
Let's say goodbye to summer with a huge party for the whole family!
Location TBA!